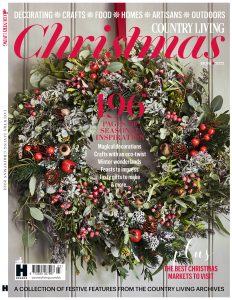 We're delighted that Tunworth has been featured in Country Living Christmas Magazine in Food & Drink, creating delicious and inspiring dishes for the Festive Season.
"Whether it's for Boxing Day, New Year's Eve or any time in between, these buffet-style dishes are sure to please"
"Made to Share"
"Take your cheeseboard to the next level with this baked delight"
BAKED TUNWORTH WITH ROASTED GRAPES AND CROSTINI
Forget Camembert – British Tunworth (made in Hampshire) is our go-to cheese for this indulgent platter.
Preparation 25 minutes, plus marinating Cooking about 35 minutes Serves 8
1 GARLIC CLOVE, THINLY SLICED
SMALL HANDFUL SAGE LEAVES
6 TBSP EXTRA-VIRGIN OLIVE OIL
800G RED OR BLACK GRAPES, ON THE VINE
2 TBSP WHITE BALSAMIC VINEGAR (USE WHITE WINE VINEGAR IF YOU DON'T HAVE BALSAMIC)
1 TBSP RUNNY HONEY
SEA SALT FLAKES
250G BOX TUNWORTH CHEESE (AVAILABLE ONLINE, SUCH AS NEALSYARDDAIRY.CO.UK)
1 OLIVE CIABATTA LOAF, SLICED
1 Preheat the oven to 180°C (160°C fan oven), gas mark 4. Soak the garlic and sage leaves in 2 tbsp olive oil for 10-15 minutes.
2 Toss the grapes in 2 tbsp olive oil, vinegar, honey and a generous pinch of sea salt flakes; transfer to a large baking tray in a single layer and roast for 30-35 minutes, or until tender.
3 Cut an 18cm circle of compostable baking parchment. Unwrap the Tunworth, reserving the box. Sit the cheese in the centre of the parchment and return to the base of the box. Use a sharp knife to score a lattice into the surface of the cheese. Poke slices of soaked garlic and sage leaves into the cuts and drizzle over the infused oil; sprinkle with sea salt and put on a baking tray until ready to bake.
4 Bake the cheese alongside the grapes for the final 15-20 minutes of cooking time, until oozing and soft. Arrange ciabatta slices on a large baking tray, drizzle with the remaining olive oil, add to oven and bake for 10-15 minutes, turning halfway through, until crisp and golden. Serve straightaway with the cheese and grapes.
Article Courtesy of Country Living Magazine
Photo Credit: Maja Smend/Hearst UK